SOCCER
***ALL SHIPPING TO MAIN 48 STATES***

We accept Purchase Orders!




---
Strike Attack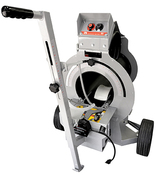 Battery powered or plug in style machine provides reliable service on any soccer field or playing surface. Realistic curve and bend of the ball can be consistently delivered and easily controlled. Balls can be thrown with the desired amount of spin or without any spin at all. Balls can be delivered up to 75 MPH at a distance of 70 yards or more.

The type of spin, height and direction desired can be locked in to place to ensure precise repetition over and over. Direction, speed and distance can be instantly changed for specific goalkeeper training. The machine can deliver the ball at ground level or in the air at any height and can direct balls to be aimed in any direction from left to right. When combined with the ability to instantly change elevation, the coach has total control to deliver different and type of movement of the ball.

Specially designed concave wheels conform to the ball surface, eliminating wear/tear of any type of ball. The long feed makes it easy for the coach to operate the machine from a standing position.

---